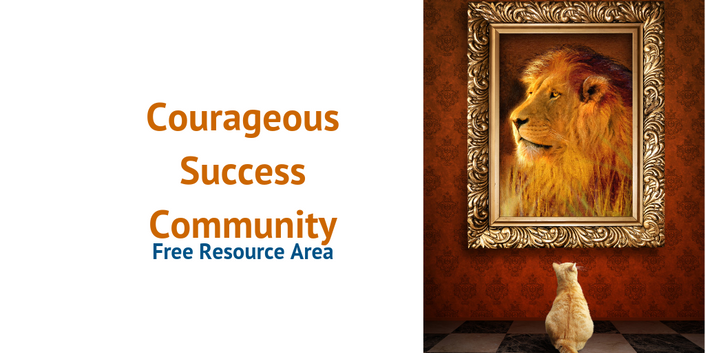 Courageous Success Community Resources Area
"The Vault" with Free Tips and Tools for Facebook group members
This is the where resources are located for the free Facebook group, Courageous Success Community. You don't HAVE to be a member of that group to access these free tips, tools, resources, and free mini trainings but it's where you'll get the most support and be able to network with other like-minded and like-personality'd entrepreneurs. Go here and ask to join if you're not a member yet. Be sure to answer the questions there and make sure the group is right for you. Here's who is a good fit....
This group is right for you if you are...
coach, consultant, healer, or other type of solo professional or owner of a small firm
an Introvert or have Introverted-leanings. Check out this free assessment to see where you fall on the personality spectrum -- you might be surprised.
abundance minded
committed to making a big impact and a big income
a contributor and connector
passionate about your mission and committed to making a big difference
ready to take consistent action to get your message out and achieve your biggest goals
Who this is not right for those who....
...are looking to mine a group for clients. There are specific opportunities to share about what you do. Please only share on those specific posts.
Build relationships first.
...are not ready to participate in their own rescue.
...are naturally negative thinkers
Some basic rules...
Please don't go live inside the group unless there's a specific opportunity to do that. (I sometimes have days when you can do that to help you build confidence)
Please don't share promo posts for other people's events, products, or services
Be nice. Always assume someone comes from a good place. If you don't understand something someone has said, ask for clarification.
No politics. Ever. Just please don't.
Don't be preachy in general. That's sort of like beauty -- it's in the eyes of the beholder. Just be helpful, kind, and sympathetic.
Cheer people for every action they take.
Participate. Don't be a lurker :-)
Your Instructor
Hi, I'm Winnie.
I work with micropreneurs to help them chart a path to the success they dream of and deserve. They work with me to get the clarity, courage, and confidence they need to stay on course and achieve their goals.
I spent the first third of my career helping my employers and the employees achieve their goals and specialized in "gap analysis". That means I'd look at where the organization wanted to go, where they were, and what they needed to do to get them to achieve the goal quickly and easily.
When I moved from human resources into marketing (I specialized in brand strategy and copywriting), I could spot what was missing from messages, sales processes, marketing materials and I would develop them so the company wasn't really selling as much as they were helping clients decide to buy.
In this program, I've taken everything I've learned in my career along with the specialized study I've done on motivation, behavior, and goal attainment since 2014 and distilled it down to its essence.
These really are the components that will help you stay on track to achieve your goals and failproof your plans.
Naturally there are no guarantees in life or in business. And perhaps the biggest competitor -- and the hardest thing for us to manage as micropreneurs -- is ourselves and what goes on in our heads and hearts.
Course Curriculum
Welcome! Start here.
Available in days
days after you enroll
Favorite Resources
Available in days
days after you enroll
Miscellaneous FB Lives and Videos
Available in days
days after you enroll
Frequently Asked Questions
When does the course start and finish?
This is not a course. It's an area where resources are stored. So you have access to the resources area as long as you're a member in good standing with the Facebook group, The Courageous Success Community.
How long do I have access to the material?
As long as you're a member in good standing of the free Facebook group, The Courageous Success Community, you have access to the library of resources here. Not all resources will be in this area forever. As the owner of the group and the content creator I always reserve the right to remove any content I put inside here. So if there's something you want and it's available for download (not everything is) then I strongly recommend you download it when you can or at a minimum, consume it as soon as you're able.
What if I am unhappy with the group?
You're always welcome to share your suggestions for improving the group. Typically, when someone isn't happy with a group it's because their expectations were out of alignment with the reality of the group experience. This is why I try to be clear about who's a good fit and who's not. So if you're truly unhappy with the group, it's probably just not a good fit for you and I would encourage you to find a group that's a better match for your needs at this time. I know I join and leave groups all the time myself based on my personal and professional needs at the time.
What if I have a friend who I think would like these resources?
Well since you got them for being a member of the free Facebook group I would hope you'd encourage the person to join the group too. Just share the link: https://facebook.com/groups/courageoussuccesscommunity
This course is closed for enrollment.